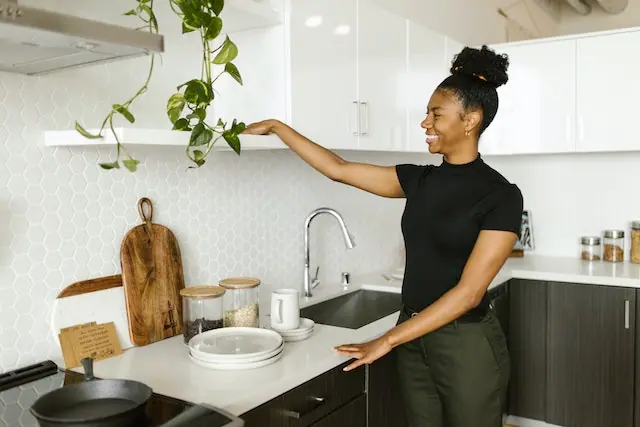 Do You Love Cooking? This is How to Optimize Your Kitchen for Enhanced Recipe Results
Not everyone is lucky enough to be skilled in the kitchen, whether that's professionally or as a hobby. Cooking is something that brings people together since food is such a universal need. Being able to provide delicious meals for your friends and family is the pride of any home chef, but having a kitchen that doesn't meet your needs can get in the way of your satisfaction. To improve your experience while you cook and therefore enhance the final results of your recipes, here are some helpful tips for optimize your kitchen to make it a more functional, enjoyable space.
Develop the Habit of Keeping Workstations Clean
Even in a professional kitchen, cleanliness is one of the top priorities. This is partly due to the hygiene necessary for serving safe and healthy food to people. In addition, clean kitchens make it easier for chefs to perform their tasks in a smooth manner. It can take some practice, but by paying attention to how your time is used in the kitchen, you can start to be more conscious of the opportunities between tasks where cleaning can be done. Wash and put away items you no longer need so your workspace is always ready for the next step in your recipe.
Store Your Tools in Logical Places
Where you choose to store your kitchen equipment, from silverware to pots and pans, will have a subtle yet definite impact on your cooking. Knowing where everything is when you need it means fewer delays and more confidence in the kitchen. It may not seem like an urgent issue, but you will quickly realize just how convenient and effective your kitchen becomes once everything is stored in a place that makes sense. Of course, you can get by with storing your utensils, tools, and equipment in suboptimal places. Why would you when you know there is such a simple solution?
Consider the Flow of Movement
For a large-scale improvement to your kitchen, consider changing up the flow of the room. If you have the budget and the time to spare, a kitchen renovation is a costly yet impactful way to optimize your kitchen space to your needs more exactly. Work out what you use most in your kitchen and how these sections need to relate to each other. There is a traditional concept of the kitchen work triangle that consists of the sink, the stove, and the refrigerator. Nowadays, the updated kitchen work triangle is the sink, the dishwasher, and the garbage. Position these elements wisely for easy access and maximum convenience.
Stock Up on Ingredients You Use the Most
Every home chef has their favorite ingredients that they always turn to. Perhaps you are known among your dinner party friends for managing to fit cinnamon into every dish. For the items you use the most, you can purchase bulk spices for better prices than repeatedly buying smaller amounts. This not only saves you money in the long run but also means that you don't have to restock as often. Never again will you feel the panic of running out of your favorite ingredients in the middle of cooking.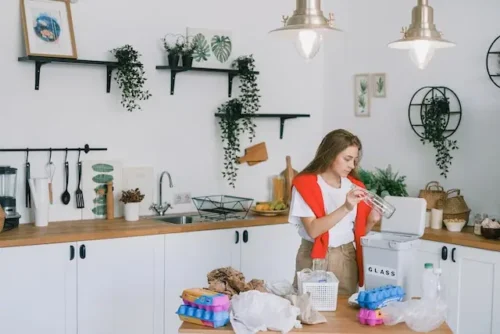 Invest in High-Quality, Multi-Use Equipment
Since saving space in the kitchen is so useful for improving your cooking environment, it follows that appliances, which perform more than one function should do the same. When you can have a single item instead of two, three, or more, it will take up less valuable kitchen space. Just make sure that you invest in multi-use equipment that has been positively reviewed by users. Some kitchen gadgets claim to have many functions but fail to live up to standard.
Label Everything
Well, perhaps not everything. Some fans of labeling would happily label every item in their home, let alone their kitchen. However, although it is easy to go overboard, labeling can be an extremely helpful method of storing your tools and ingredients. If you have a pantry, labeling each section will simplify the process of locating what you need as you need it. This is especially handy for loose ingredients removed from their original packaging, such as grains, seeds, and baking ingredients.
Know Your Cookware Materials
Quality cookware needs to be reliable and safe for its purpose. Some materials are better than others for surviving the heat of the kitchen. Here are some examples of the best and safest cookware materials to look out for:
Cast iron;
Stainless steel;
Ceramic;
Glass
Install Strategic Lighting
A simple yet essential part of cooking is being able to clearly see what you are doing. From measuring out ingredients to judging whether or not your creation is ready to be served, good lighting will help you out. Position your kitchen lighting in places where you need it most optimize. Avoid creating shadows that will block your vision or using lights that are too bright.
Create an Efficient Disposal System
Gone are the days when a single garbage can was enough to capture the refuse of a kitchen. Most households now have at least one additional bin for recycling and, in many cases, a food scraps container for composting. Store these essential items sensibly in your kitchen so they are easy to reach but not in the way of your cooking, as they could pose a threat to the hygiene of your space.
Keep Your Most-Used Items Close
No two home chefs have the same favorite kitchen items. What you use most will depend on your favorite recipes to make. Keep your frequently used tools and pieces of equipment where you can reach them quickly.
Tidy Your Refrigerator
Just as a tidy kitchen makes it easier to navigate, so too does a tidy refrigerator improve the overall cooking environment. There is a specific kind of peace that comes from knowing precisely what you have in your refrigerator and where it is kept. It makes it easier to monitor usage and to identify ingredients that are running low when you are aware of their place in the refrigerator. You would be amazed at how such a simple tactic can make such a difference. Take an afternoon to reorganize your refrigerator and you will soon see just how helpful it can be.
A love of cooking is a wonderful passion to share with the world, especially those you are closest to. It is a precious skill to provide delicious food to the people you love, but the state of your kitchen can be your unexpected downfall. Use the above tips and tricks to improve your kitchen and make it the most organized, optimize part of your home. You'll quickly notice just how much more you enjoy the cooking process.