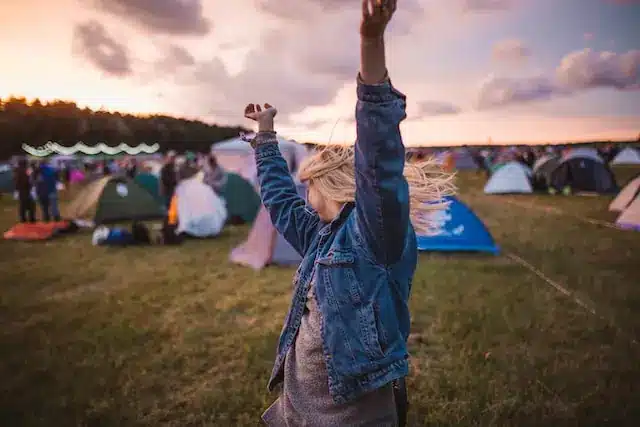 Everything You Need to Know about Camping at Glastonbury Festival
The Glastonbury Festival, often referred to simply as Glasto, is not just any music festival; it's a legendary experience drawing music enthusiasts, free spirits, and festival-goers from around the world to the green fields of Somerset, England. While the festival is primarily about music, it's also about the unique camping and glamping experiences it offers. In this blog, we'll explore everything you need to know about camping and glamping at Glastonbury Festival, ensuring your stay is comfortable, enjoyable, and memorable.
The Basics of Camping at Glastonbury
Before we delve into the world of glamping, let's first cover the basics of camping at Glastonbury. The festival offers a wide range of camping options, and understanding the essentials is crucial for a smooth and enjoyable stay.
Camping Tickets: To camp at Glastonbury, you'll need a camping ticket, which you can purchase alongside your festival ticket. Glastonbury offers several campsite options, each catering to different preferences and budgets.
Tent and Gear: While many festival-goers bring tents and camping gear, it's important to consider the weather. The UK weather can be unpredictable, so ensure your tent is waterproof and sturdy. Bring extra pegs, as they can be a lifesaver in strong winds.
Campsite Selection: Glastonbury has a variety of campsites catering to different needs. Consider the "Pennard Hill" or "Park Homeground" campsites if you want to be close to the main stages. For a quieter experience, choose the "Family Camping" area. It's advisable to arrive early to get a good spot.
Facilities: The festival provides basic amenities such as toilets and water points, but it's important to bring your essentials, including toilet paper and hand sanitizer. Showers are available in certain areas, but be prepared for long lines.
Security: While Glastonbury is generally a safe and friendly environment, keeping your valuables secure is wise. Lockers are available for rent, or you can use a small padlock on your tent.
Noise and Comfort: Glastonbury is known for its non-stop music and lively atmosphere, which can make for noisy nights. If you're sensitive to noise, consider earplugs or noise-canceling headphones for a good night's sleep.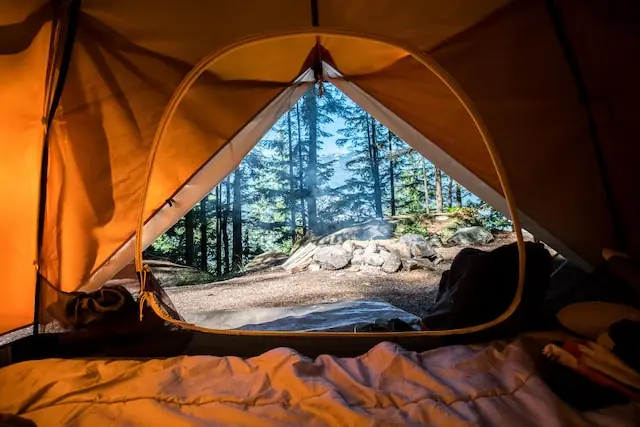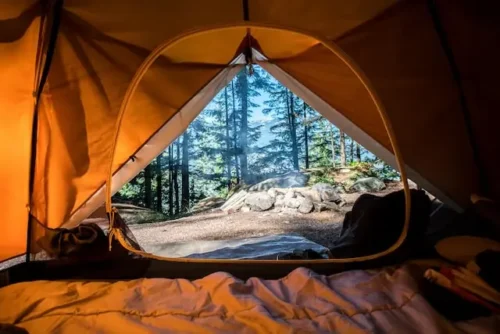 Glastonbury Glamping: The Luxurious Option
Glastonbury offers a range of glamping options for those who prefer a more comfortable and luxurious festival experience. Glamping, a portmanteau of "glamorous" and "camping," provides festival-goers with the convenience and comfort of home while still immersing them in the Glastonbury experience.
1.  Pop-Up Hotel
The Pop-Up Hotel is a premium glamping experience that offers festival-goers luxury amidst the chaos. You can choose from various accommodation options, including stylish tents, yurts, and Airstream caravans, all equipped with comfortable beds, electricity, and room service.
The Pop-Up Hotel provides guests with private bathrooms and showers, so you won't have to endure the communal festival facilities. Additionally, a communal lounge area, a bar, and a concierge service cater to your every need.
2.  Tipi Village
The Tipi Village is a popular choice for Glastonbury festival glamping. These traditional-style tipis offer a cozy and unique accommodation experience. Each tipi is equipped with beds, rugs, and lanterns. You'll also have access to private bathroom facilities and showers.
Tipi Village creates a communal atmosphere, allowing you to meet fellow festival-goers while enjoying a bit of comfort and privacy. It's a great choice for those who want a special Glastonbury experience without completely disconnecting from the festival's communal spirit.
3.  Worthy View
Worthy View is the official glamping site provided by the Glastonbury Festival organizers. It's on a hill overlooking the festival grounds, offering stunning panoramic views. Accommodation options at Worthy View include pre-erected tents and wooden cabins.
The pre-erected tents have comfortable bedding and electricity, while the wooden cabins offer more space and privacy. Guests at Worthy View have access to dedicated showers and toilets, reducing the wait times you might experience in the general campgrounds.
4.  Camp Kerala
Camp Kerala is the epitome of luxury glamping at Glastonbury. It offers fully furnished, beautifully decorated tents with hardwood floors, luxury bedding, and various amenities. Each tent has a private garden area with a hot tub.
Camp Kerala is renowned for its gourmet dining experiences, spa facilities, and attentive staff who can arrange everything from massages to chauffeur services. It's ideal for those who want to combine the Glastonbury Festival with a high-end vacation.
Benefits of Glamping
Now that we've explored some of the glamping options at Glastonbury, let's discuss the benefits of choosing this elevated festival experience:
Comfort and Convenience: Glamping allows you to enjoy the festival while having a comfortable and clean place to rest, shower, and use the restroom.
Reduced Packing: Glamping options often provide bedding, so you won't have to worry about lugging around a sleeping bag and air mattress.
Security: Many glamping areas are more secure than regular campsites, providing lockable accommodations and sometimes 24/7 security.
Social Experience: Glamping sites often foster a sense of community, allowing you to socialize with other festival-goers in a more relaxed environment.
Stress Reduction: The convenience and luxury of glamping can significantly reduce the stress and discomfort associated with traditional camping, allowing you to immerse yourself in the festival fully.
Read More: How to Make It Through Your First Solo Camping Trip
How to Book Glamping at Glastonbury
Booking a glamping experience at Glastonbury is a straightforward process, but it's crucial to do so well in advance, as these accommodations tend to sell out quickly. Here's how to book your glamping adventure:
Visit the Official Website: Visit the official Glastonbury Festival website. They usually have a dedicated section for glamping options.
Choose Your Glamping Site: Browse the available glamping options, such as Pop-Up Hotel, Tipi Village, Worthy View, or Camp Kerala. Each site offers unique accommodations and amenities.
Select Your Package: You'll find different packages and accommodation types within each glamping site. Choose the one that best suits your preferences and budget.
Book Early: The Glastonbury Festival is incredibly popular, and glamping options tend to sell out quickly. Be prepared to book your glamping experience as soon as it becomes available.
Payment and Confirmation: After selecting, follow the booking process, pay, and await confirmation. Make sure to keep all booking information handy for your reference.
Camping and glamping at Glastonbury Festival offer two distinct but equally exciting ways to experience this iconic event. Whether you prefer the simplicity of traditional camping or the luxury of glamping, Glastonbury ensures that every festival-goer can create lasting memories.
Ultimately, the choice between camping and glamping comes from your preferences and budget. While traditional camping offers a more immersive experience in the festival's communal spirit, glamping provides the comfort and convenience of a home away from home.
Whichever option you choose, plan well in advance, stay informed, and fully embrace the unique spirit of Glastonbury. This festival transcends music –a transformative experience that will leave you with cherished memories and a sense of belonging to something special. So pack your bags, bring your positive energy, and get ready to revel in the magic of the Glastonbury Festival.