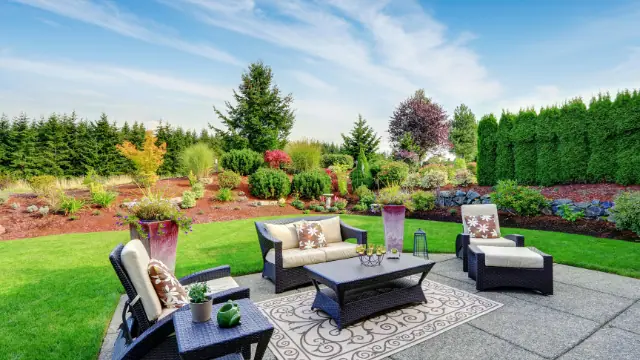 8 Landscaping Trends for 2023
Whether you are a private landscaper or a homeowner who wants to try your hand at landscaping trends. It is always a good idea to see what is trending in the wonderful world of landscaping design.
From immersive spaces to reclaimed materials, read on to discover the top eight landscaping trends that promise to transform your outdoor space.
Plus, find out how you can recreate each look whatever your budget and however big or small your backyard is. There are even ideas for people living in urban areas!
1.  Defined Spaces
Since the pandemic, homeowners have been searching for more inventive ways to utilize their outdoor space. This is with many looking to create functional and stylish extensions of their homes.
Whether you choose to build an outdoor kitchen, a home office, or even a new living room there are so many practical ways you can create defined spaces in your backyard.
If you are on a budget, creating defined spaces could be as simple as planting some hedging or using landscaping edging. For those with a bit more cash to splash, you might want to consider opening up your living to your patio area. This one to create a useful and fluid space that can be enjoyed all year round.
If you need a little help creating defined spaces in your backyard, head to arbourlandscapesolutions.co.uk for a little inspiration.
2.  Artificial Grass
Artificial grass is set to be big in backyards in 2023, with homeowners looking for more low-maintenance solutions for their backyards.
Offering visual appeal throughout all seasons without blowing your budget, artificial turf is suitable for both small and large outdoor spaces.
If you are thinking about getting artificial grass for your backyard, it can be a good idea to ask for a few samples from suppliers first so that you can see which type you like best.
You can find artificial turf to suit all budgets, but it is worth knowing that you can tell the difference between cheaper varieties of artificial grass and more expensive ones.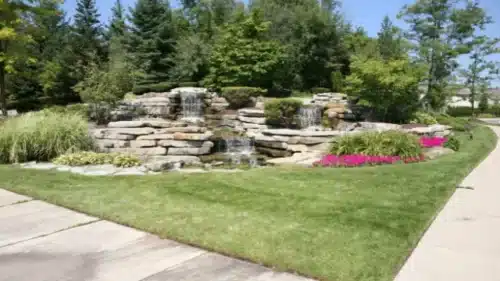 3.  Water Features
In the world of landscaping, water features rarely go out of fashion due to their aesthetic appeal and versatility.
In 2023, ponds are big news, with homeowners and landscape designers alike falling over themselves to incorporate these attractive and peaceful water features into backyards across the country.
If you have a small garden, a raised pond is a good idea, as these do not take up much space and can be placed on a patio area with ease. For larger spaces, why not go all out and create your very own tropical oasis?
Ponds are also great for supporting local wildlife and bringing it into your outdoor space for the whole family to enjoy.
Alternatively, water fountains are also popular, with sizes suitable for both more compact spaces and expansive backyards.
4.  Recycled Materials
If you want to make your backyard more sustainable, or you are a landscaper who has been asked to create a sustainable space. Then you will be pleased to hear that recycled and reclaimed materials are a top trend for landscaping design in 2023.
Perfect for eco-conscious homeowners, there are so many exciting ways that you can incorporate sustainability into an outdoor space. For example, you could choose to use repurposed bricks to create lawn edging. Or you could use reclaimed wood to build a playhouse for your kids.
Don't feel that you need to restrict yourself to just one type of recycled or reclaimed material. For a more eclectic look and to fully embrace this trend, try combining lots of different environmentally friendly elements into your backyard.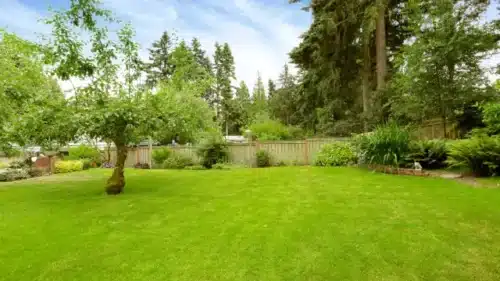 5.  Immersive Spaces
Although this may seem a little futuristic, immersive outdoor spaces actually offer the perfect opportunity to showcase the natural beauty of your backyard.
An immersive space should offer intrigue and atmosphere, making anyone who enters it immediately feel like they are entering into a new world.
There are many landscaping techniques you can use to transform your backyard into an immersive space. Including using hedges or walls to create windows or doorways to different parts of your backyard and adding plants of different heights to create an air of mystery.
Feel free to experiment with different textures and colors, as an immersive space should feel a little chaotic rather than perfectly put together.
6.  Metal Features
As well as more sustainable materials popping up in outdoor spaces in 2023, you can also expect to see metal showing its face in backyards up and down the country.
A landscaping trends that offers so much in the way of creativity and innovation. There are many ways that homeowners and landscapers alike can incorporate this landscaping trend into an outdoor space.
From water features made of metal to metallic shade structures, metal lawn edging to metal planters, the key to getting this trend right is to go bold or go home.
Metallic elements are suitable for both small spaces and larger backyards and don't have to break the bank. In fact, if you have a local salvage yard, you might be able to find some hidden gems there. Especially if you are willing to take on a DIY project.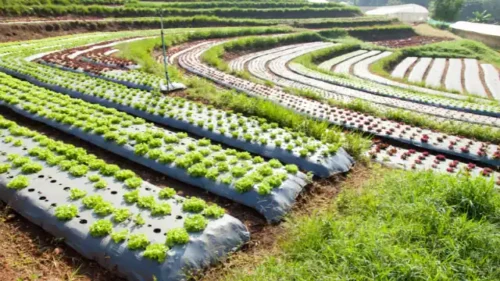 7.  Urban Vegetable Plots
Just because you live in a city doesn't mean that you can't take advantage of the latest landscaping trends. Although technically more of a gardening trend than a landscaping one, urban vegetable plots are expected to take the world by storm this year.
Providing the perfect way to connect with nature and grow your own fresh produce, urban vegetable plots are great for people who live in apartments but still want to bring a little bit of plant life to their homes.
Plus, you don't have to be a green-fingered whizz or have a lot of space to build your very own vegetable plot. There are lots of veggies that are super easy to grow. Such as tomatoes and most herbs, and these can thrive in vertical pots or hanging baskets.
Read More: Top Ten Luxury Smart Home Products for Apartments
8.  3D Garden Design
If you own your own landscaping company, then you have probably already heard of 3D garden design. Enabling you to present your designs in a highly visually appealing way. 3D technology has already started to be embraced by the masses, with the more high-end market utilizing augmented reality to rejuvenate their plans.
For homeowners, a 3D design offers a great way to see what your outdoor space will look like. And once complete in unrivaled detail. It also allows you to make any changes or adjustments before the work begins.
And there you have it – all the top landscaping design trends for 2023.
Which one do you like the look of for your outside space?