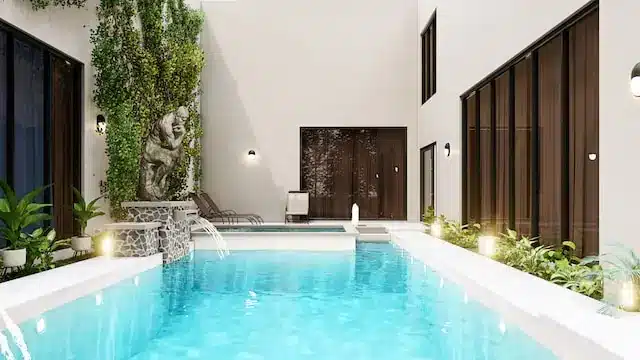 7 Pool Design Trends to Look Out For in 2024
Whether you are thinking of building a pool in your backyard or you work within the pool design industry, the year ahead is set to be an exciting one for the world of pool design trends.
From the emergence of new lighting techniques to moving floors and hidden pools, read on to discover the top seven pool design trends that you need to look out for in 2024.
Plus, discover all the top tips and techniques for designing your own pool from the experts in the industry.
1.  Colored waters
One of the more aesthetically pleasing pool design trends for 2024, you can expect to see a lot more pools featuring finishes that make the water look different colors at different times of the day.
If you would like your new pool to shine in an array of different colors, consider some of the below design techniques:
Choose a light grey pool liner to create bold and blue water.
Use a pale blue liner or interior tile to create more translucent water.
For a deeper blue, use a dark blue liner or tile.
Pick green, tan, or brown colored accents to create soft green tones in the water.
Pick a black liner or tile to make the water look more reflective.
2.  Sustainable designs
For the last few years, there has been a surge in the popularity of more sustainable swimming pools, and this is only set to get more widespread in 2024 and beyond.
With an increasing number of homeowners looking for ways to reduce their carbon footprint and minimize their impact on the environment, sustainable pool designs are bang on trend.
There are many ways that you can make your swimming pool more eco-friendly, including:
Choose sustainable or recycled materials.
Use local wholesale pool supplies and contractors.
Look for energy-efficient lighting and heating systems.
Choose filtration systems that require less energy.
Invest in solar covers and solar panels to heat your pool.
3.  Tanning ledges
The perfect pool design trend for sun worshippers, tanning ledges, also referred to as sun shelves, provide enjoyment for the whole family.
For adults, this innovative feature can be used to relax and soak up the sun's rays. However, it can also be used by children, providing a place where they can play in the water without having to be completely submerged and also helping them get in and out of the water more easily.
Tanning ledges can be customized in many different ways depending on the space that you have available and what you want from your pool. For example, you can add:
Pool-friendly lounge chairs
Umbrella stands
Partly submerged side tables for drinks
Tanning ledge chairs complete with lumbar support
It is worth noting that the addition of a tanning ledge complete with chairs can add a significant amount to the total cost of your pool, as much as $8,000.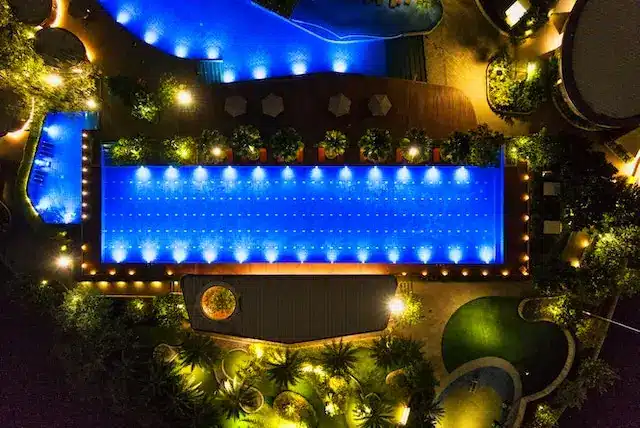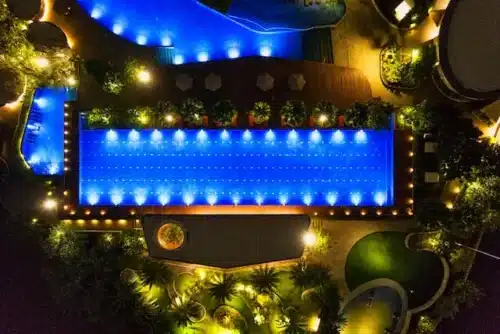 4.  Innovative lighting
When it comes to illuminating your swimming pool, there has never been more choice. No longer do pool owners have to put up with run-of-the-mill light features that don't provide much in the way of visual appeal.
If you are in the middle of designing a pool for your home, you will be happy to hear that there are lots of new and exciting innovations in pool lighting, such as:
Underwater LED lights that give off a soft glow in the evenings and enable swimmers to see all angles of the pool at night.
Floating lights that provide fun and function and can be controlled via your smartphone.
In-ground lighting that can create contrast with shadows and can be installed either around the perimeter of your pool or on your pool fencing.
Solar lights that can be used on water features such as fountains and waterfalls.
Path lighting to illuminate the pathway to your pool and prevent accidents.
5.  Different depths
Traditional swimming pools are shallow at one end and deeper at the other. However, you can now expect to see more pools featuring non-standard depths.
Enabling homeowners to customize the depth of their swimming pool to suit their lifestyle, you can play around with different depths, such as all the sides of the pool one depth and then the center a lot deeper.
Alternatively, if you use your pool predominantly for lane swimming, you may want to have one depth across the entire length and width of your pool.
Other depths you may want to consider include:
An extended shallow tanning ledge around all edges of the pool for more space to lounge in.
Spooned depths which are ideal for diving.
Sloped depths for ease of use and enhanced practicality.
Changing depths via moving floors.
6.  Fire features
Fire features are set to be huge in 2024, with pool designers and homeowners alike falling over themselves to embrace this pool design trend. Offering a dramatic look that comes alive at night, there are so many different types of fire features for you to choose from.
Some of the most sought-after fire features for the year ahead include:
Fire bowls, either by the side of the pool or incorporated into the pool.
Customized fire pits.
Traditional fire pits.
Glass-enclosed fireboxes
You may also want to try and combine fire and water features, such as fire and water bowls, to create an even more show-stopping look. If you have children, make sure you are vigilant at all times when any fire features are in use.
7.  Moving floor and hidden pools
If you would like to create a little intrigue in your backyard, then why not design a swimming pool with a moving floor or a pool that is completely hidden?
Pools with moving floors are becoming increasingly popular with households. Who want to invest in luxury pool design, providing interest and visual appeal. A truly bespoke pool design technique, you can incorporate a moving floor system complete with self-depositing steps.
Alternatively, hidden pools that feature a raised platform and can double as a dining area are also expected to be big news next year.
Some of the most notable benefits of designing a hidden pool are:
To make the most out of a small space.
To create a safer pool area for young children.
To enhance visual appeal.
Read More: 8 Landscaping Trends for 2023
Top tips for pool design in 2024
Don't be afraid to think outside the box.
Combine features that are functional and attractive.
Set a budget and stick to it.
Use local suppliers and contractors to keep costs down and to support the environment.
Make sure you check local property and bylaw restrictions.
Hire a pool designer for advice and support.
Embrace smart technologies.