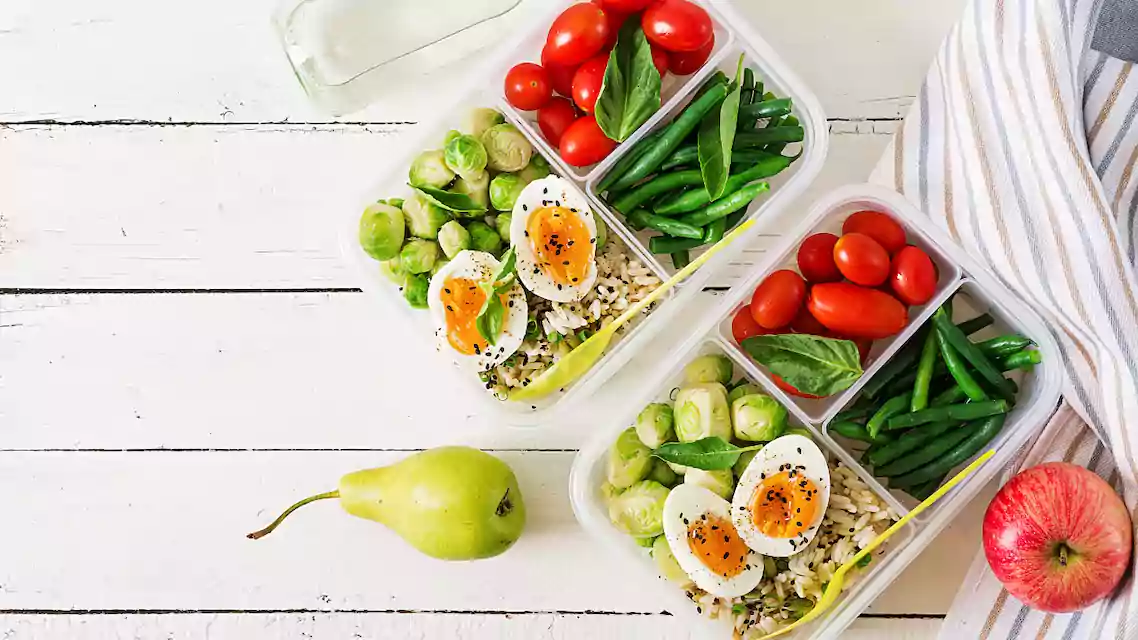 Healthy Meal Prep Ideas for Weight Loss on a Budget
The following article provides healthy meal prep ideas for weight loss on a budget. The article explains seven days of meal prep, making sure that you have all the ingredients at home and cook the meals on the weekdays.
Furthermore, it mentions many healthy meal prep recipes that can be followed if you are looking for weight loss on a budget. So, let's get started.
Meal Planning for Weight Loss
It's not just about the food you eat, but also how you prepare your food. Preparing healthy meals can help you sustainably lose weight.
If you're trying to maintain a healthy weight, you need to be mindful of what you're eating and how many calories you take in. Eating well can be difficult if we don't plan for it ahead of time. We may not have the time or the energy to cook a healthy meal if we don't already have it planned out and ready to go.
It is not always easy to find healthy and nutritious food items. But with a bit of planning and creativity, you can create satisfying, filling, and healthy meals that will help you lose weight. If you're looking for a fresh and healthy meal prep recipe for weight loss on a budget, then this is the article for you!
In today's article, we will be providing high-protein meal prep recipes for weight loss. These meal ideas are designed to keep your blood sugar stable so that it doesn't cause spikes in energy levels and hormones.
Read more: Simple Healthy Breakfast Recipes for Weight Loss on The Go
What is the Best Way to Meal-Prep?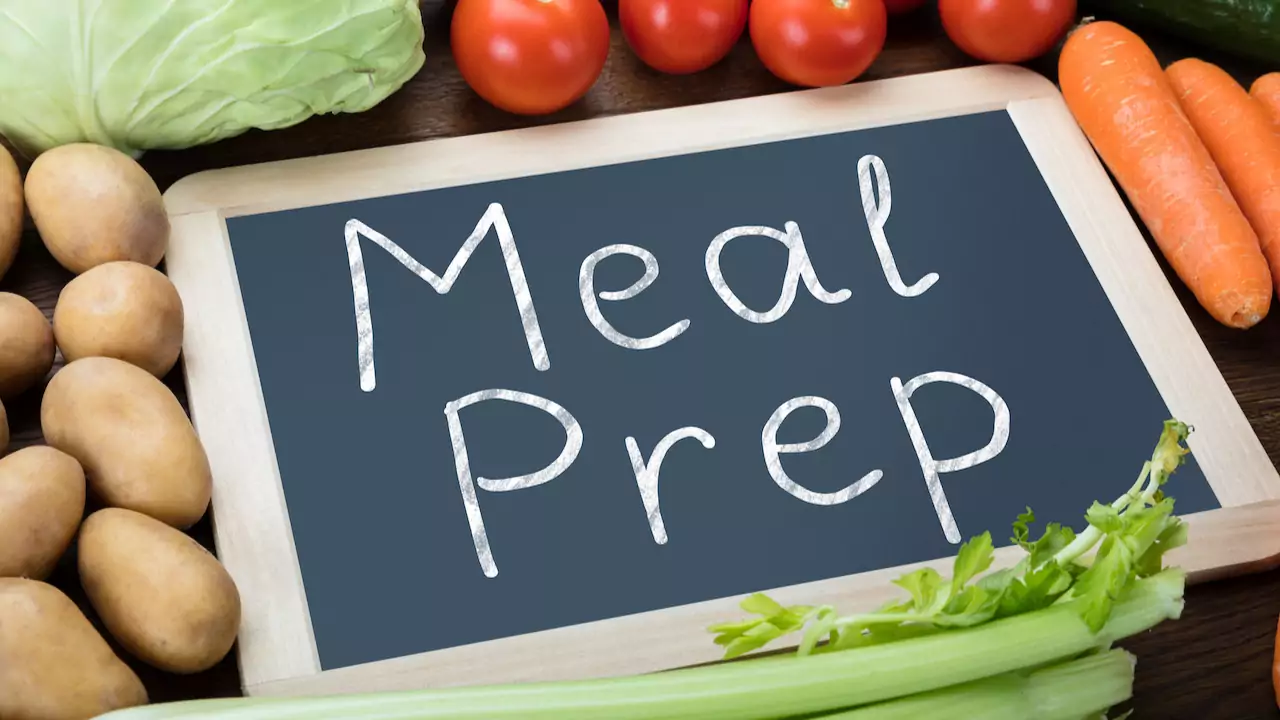 When people look to lose weight, they often try to find ways to save time. Meal preps are one way to do this.
Meal prepping has become so popular in the past few years because it offers a simple solution to eating healthy, with no need for cooking or grocery shopping when you are tired or don't have time.
The idea behind meal prepping is simple. Create a series of meals that can be eaten in one day or in a matter of days that have all the same food groups in them and then reheat it when you want to eat them.
You can prepare your meals in advance, making it easier to stick to your diet.
Put together a plan for the week, so you have easy access to your dishes, ingredients, and containers.
You can use an app that stores recipes on the cloud to find ideas that match your needs.
If you do not want to spend time cooking every night, try freezing some of your dishes for later use in the week with zip-top bags or vacuum sealer bags. This way, you will only have one dish per meal to cook to save time!
Does Healthy Meal Prep Ideas Help Lose Weight?
The debate has been going on for a while now – do healthy meal prep ideas help with weight loss on a budget?
The answer to this question is more complicated than it looks. Meal prepping is an excellent way to make sure you consume healthy food and not fall victim to unhealthy temptations. It also takes away the temptation of these unhealthy options, which can be helpful if you are trying to lose weight on a budget.
Meal prep is a great way to save time and avoid unhealthy eating. It doesn't necessarily mean that it will help you lose weight, but there are plenty of healthy meal prep ideas for weight loss on a budget.
Some people believe that meal prep can help them lose weight because they would be more mindful of what they eat and how much they eat. But the truth is that as long as you eat healthy and nutritious food, it shouldn't matter if you make it fresh or buy pre-made food from the supermarket.
The best thing about meal prep is that it's a great way to save time and avoid eating unhealthy food on the go. The common misconceptions about meal prep include: Meal prepping should only be for losing weight.
Read More: 30 day Vegan Diet Weight Loss Plan
Explore Meal Prep Ideas to Lose Weight
Most people think of healthy eating as a time-consuming process. But it doesn't need to be. Meal prepping is a great way to make sure you always have healthy and nutritious meals on hand, without any excess spending.
It is essential to know that eating healthy doesn't have to be expensive or time-consuming. With the right meal prep ideas, your next week's worth of meals will take no more than an hour or two.
The following is a list of healthy meal prep ideas to help you lose weight and stay on budget.
1. Overnight Oats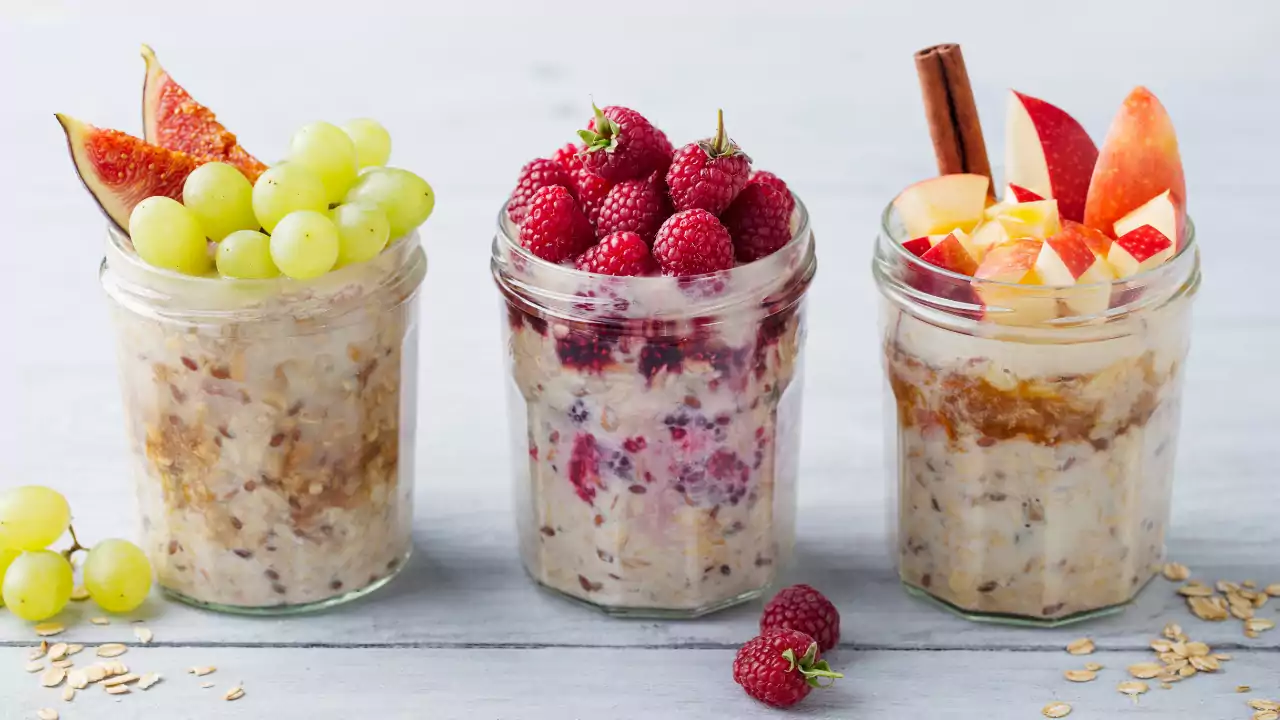 Serves: 4 people
Preparation Time: 15 minutes
Ingredients required:
2 cup rolled oats
3 cups almond or coconut milk
1 cup greek yoghurt
4 tbsp flax or hemp seeds
1 cup mixed fruit of choice
Recipe:
First of all, mix the ingredients in a jar. Hemp seeds are optional. Only mix milk and oats, and then you can add your flavoured substances according to your own choice.
Once you have mixed up all the ingredients, add your fruit to it.
Keep the Jar in the fridge for at least 2 hours or overnight.
The recipe prepared will last up to 5 days in the fridge, and hence they are perfect meal prep.
2. Zucchini Pizza Boats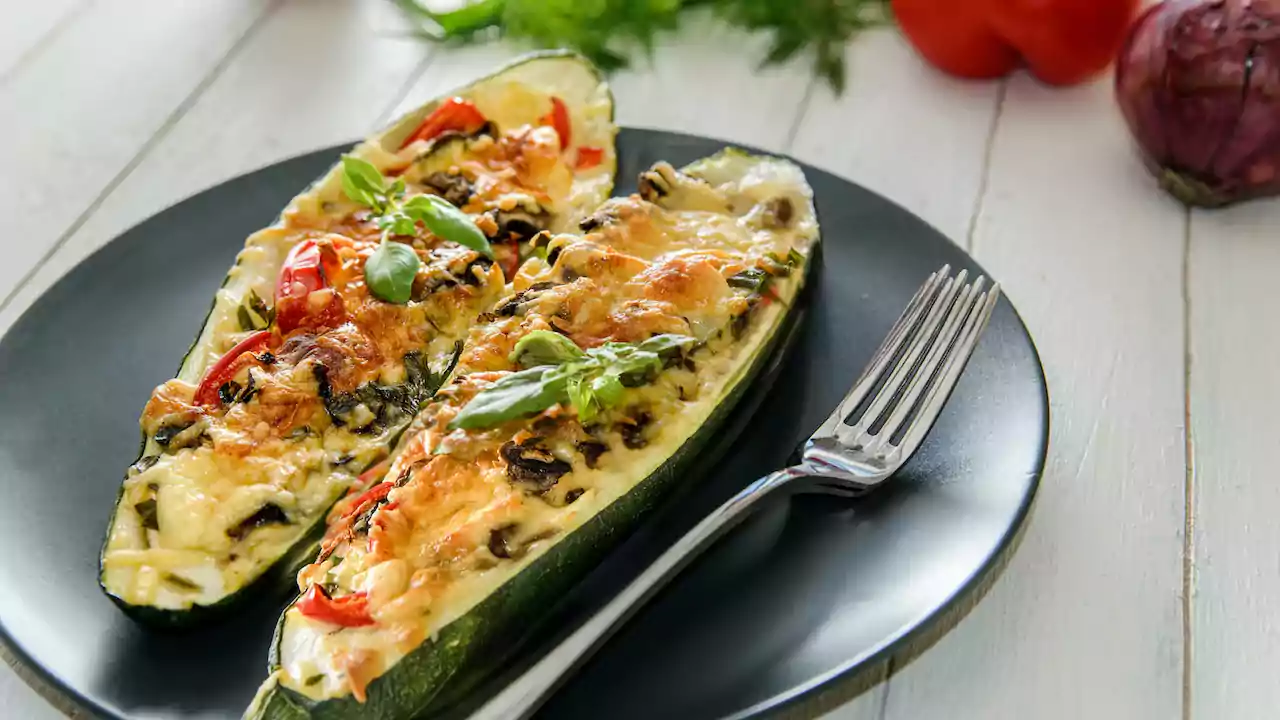 Serves: 4 people
Preparation Time: 30 minutes
Ingredients required:
Four zucchini, sliced in half lengthwise
One small can of pizza sauce
½ package button mushrooms, sliced
One small red onion, diced
½ green pepper, diced
Two turkey or pork sausages, casings removed
2 cups shredded mozzarella cheese
1 tbsp fresh chopped basil (optional topping)
1 tsp red chilli flakes (optional topping)
Recipe:
First of all, preheat the olive oil in a large skillet over med-high heat. After that, you have to add sausage, then crush up with a crushed spoon and then mix well. Cook it for 5-6 minutes until meat is browned and fully cooked. Then remove it from heat and set it aside.
In an oven, preheat it to 400 F. Then cut zucchini in half lengthwise and scoop out the flesh. On a baking sheet, spread the zucchini boat with pizza sauce. Top it with sausage, red onion, mushrooms, green pepper, and cheese.
Bake it for over 15 minutes or until cheese is melted, whichever is earlier. Please remove it from the oven and sprinkle it with fresh basil and chilli flakes. Now serve and enjoy!
The dish can be stored in a fridge for 3-4 days.
3. Asian Sesame Nachos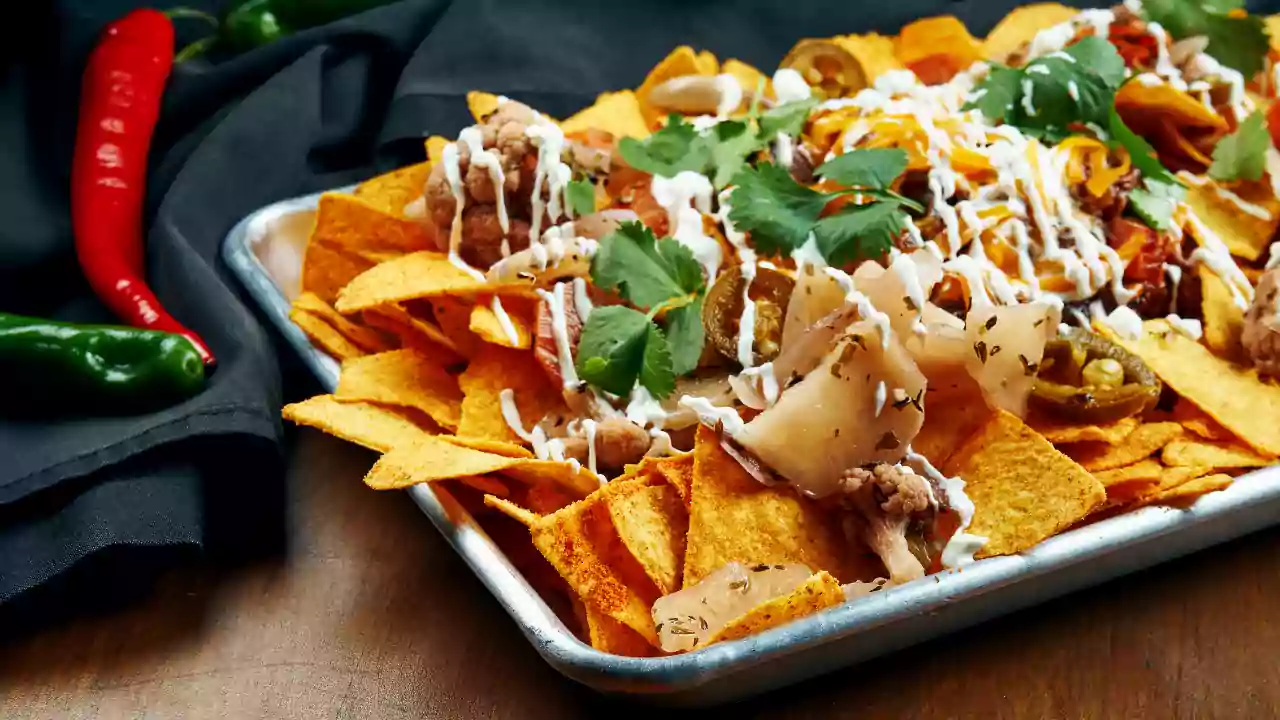 Serves: 2 people
Preparation Time: 30 minutes
Ingredients required:
1 cup tortilla chips
1 cup leftover Kung Pao Chicken
Two green onions, sliced
One carrot, shredded
½ cup cucumber, chopped
2 tbsp sriracha mayo
Chopped cilantro for garnish
Sliced Chili peppers for garnish
Recipe:
On a large platter, spread tortilla chips. Then heat the leftover Kung Pao Chicken in the microwave for 2 minutes. After that, add it to the chips.
Sprinkle green onions, shredded carrot and cucumber over the chicken and chips, then drizzle it on hoisin sauce and sriracha mayo.
Garnish it with Cilantro and Chili peppers. Your meal is ready. Now serve and enjoy.
4. Freezer Burritos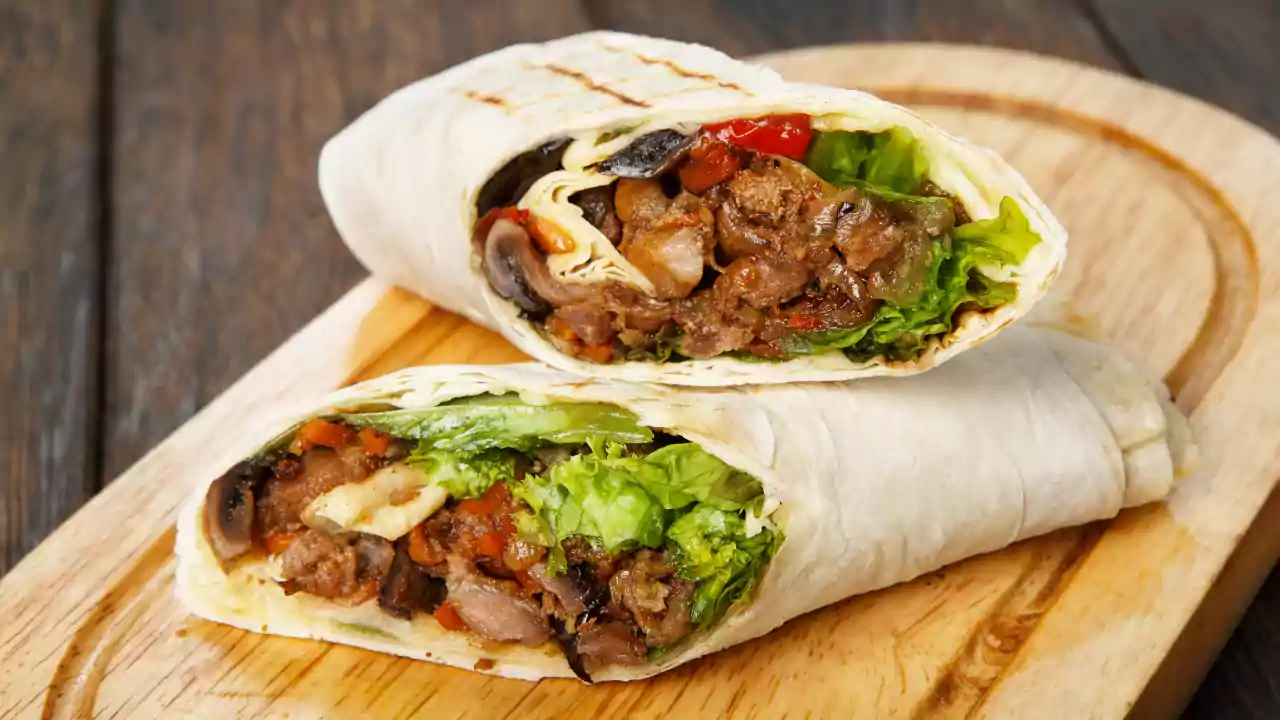 Serves: 8 people
Preparation Time: 45 minutes
Ingredients required:
Eight flour tortillas
2 cups frozen hashbrowns
Eight slices of turkey bacon
1 tbsp olive oil
½ each red and green pepper, diced
One small red onion, diced
12 eggs
½ cup milk
1 tsp salt
¼ tsp pepper
1 cup shredded cheddar cheese
Recipe:
Preheat the oven to 450. Then spread the hashbrowns on a parchment-lined baking sheet and bake it for 10-15 minutes.
In the meantime, cook the turkey bacon in an extensive skill set for 4-5 minutes over med-high heat. Remove and then let it be cool. Then crumble it up and then set it aside.
Add the olive oil to the skillset and sauté bell peppers and onions for 3-4 minutes until softened. Remove it once it gets softened. Set it aside with the bacon.
Mix the eggs, milk, salt, and pepper in a large bowl. Add eggs to the pan, scramble them and remove from the heat.
Microwave flour tortillas for 10-20 seconds until it gets softened and pliable. Spread a little bit of egg on the pan, turkey bacon, hashbrowns, veggies, and cheese. Fold all of them into the burritos.
After that, wrap each burrito in plastic wrap and then place five at a time in a large freezer bag.
5. Cauliflower Fried Rice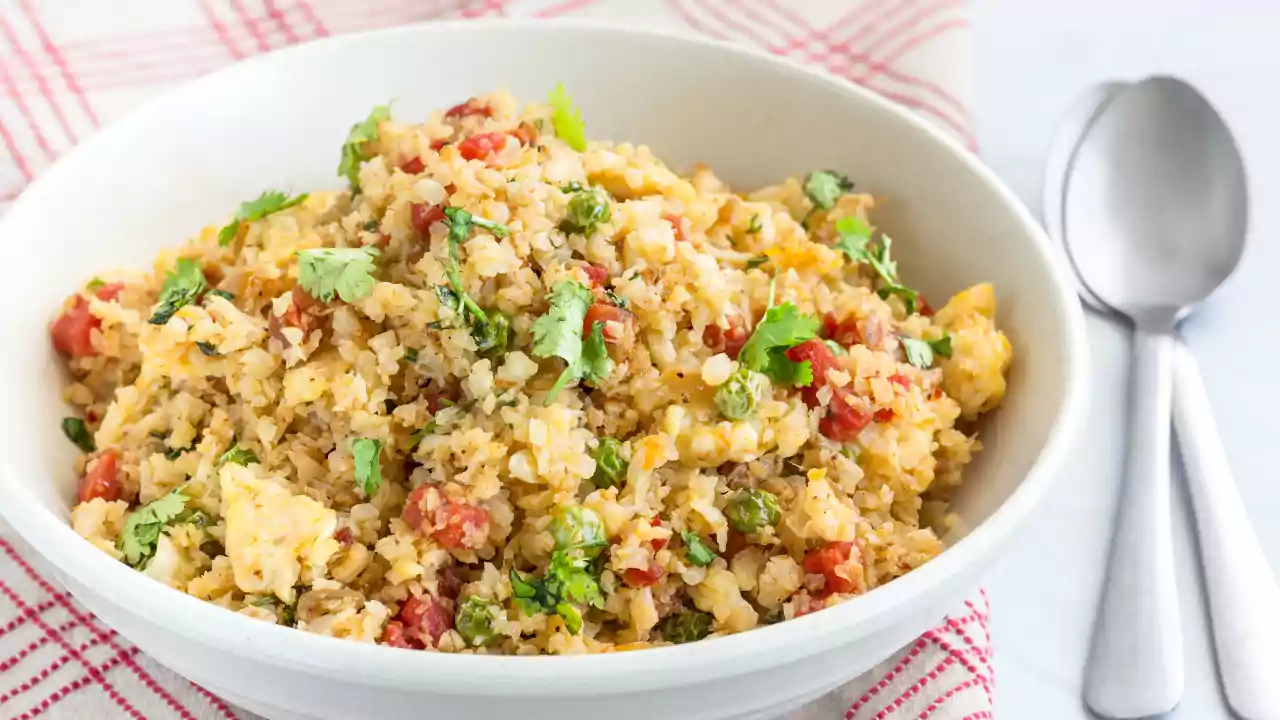 Serves: 4 people
Preparation Time: 20 minutes
Ingredients required:
1 tbsp olive oil
1 lb frozen raw shrimp, defrosted and de-shelled
Salt & pepper to taste
1 tbsp butter
One yellow onion, diced
Four cloves garlic, minced
4 cups cauliflower rice
3 tbsp low-sodium soy sauce
2 cups mixed frozen vegetables
One pinch salt
One egg
Four green onions, sliced
Sesame seeds, for garnish
Recipe:
Heat the olive oil in an extensive skill set over med-high heat. Add the shrimp and season it with salt and pepper, stir-frying for 2-3 minutes until shrimp have not become translucent. Remove from the heat and transfer it to the plate.
Without wiping the skillet clean, add the butter to it. Once it gets melted, add onions and garlic, sauté it for 1-2 minutes until it gets softened.
Add cauliflower rice and soy sauce, sauté it for another 5-6 minutes. Stir in frozen vegetables and salt and cook it for another 2 minutes.
Create a circle in the middle of veggies and more butter in less quantity. Crack the egg and scramble; cook it for 30 seconds until it becomes solid.
Stir the rest of the veggies and add shrimp back to the pan. Please remove it from heat, stir it in green onions, and then garnish it with sesame seeds.
Serve it on your plates and enjoy!
6. Sweet Potato Hash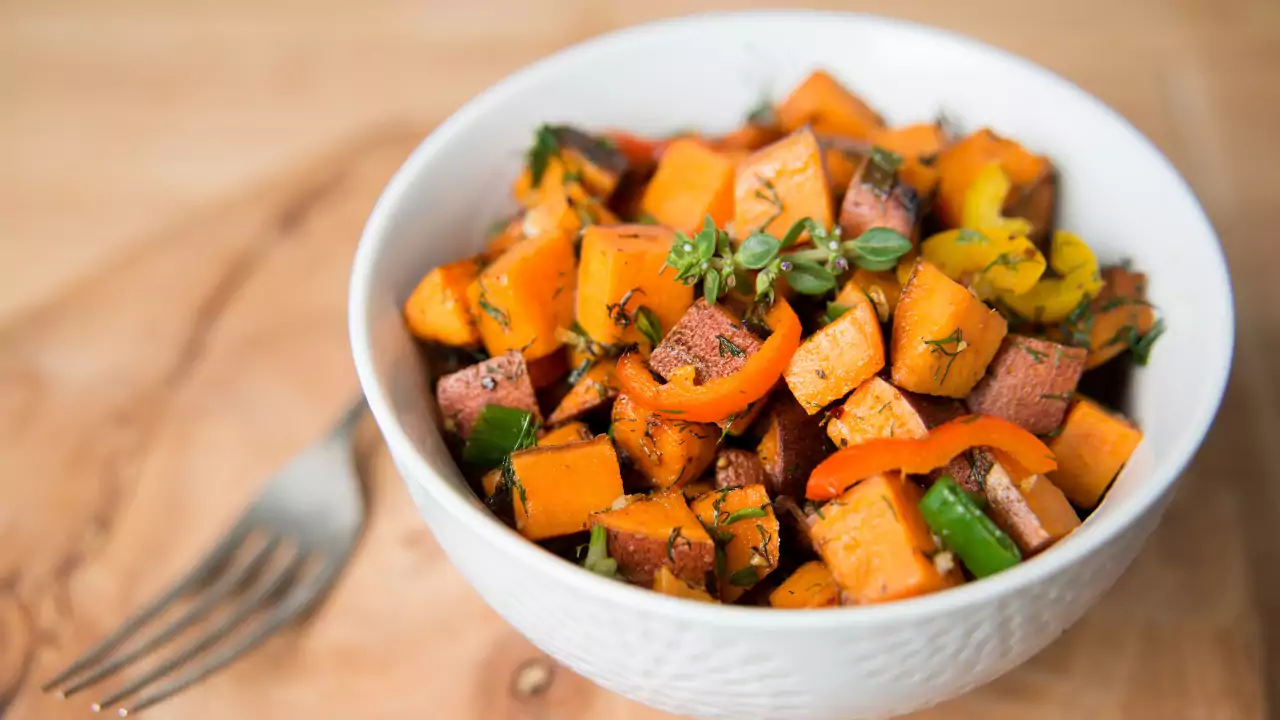 Serves: 4 people
Preparation Time: 40 minutes
Ingredients required:
1 tbsp olive oil
Two medium-sized sweet potatoes, diced
One each red, green, and yellow, diced
One medium-sized red onion, diced
1 cup chopped kale
1 tbsp chilli powder
½ tsp each salt and pepper
Four turkey sausages
Recipe:
Pre-heat the olive oil in a large skillet over med-high heat. Then add the sweet potatoes and half of the chilli powder. Sprinkle the salt on it. Sauté them for 15-20 minutes until they softened and stir it occasionally.
Remove the casings from the sausage. Add to the skillet once the sweet potatoes are cooked for 15 minutes.
Break the sausage with a spoon and cook it for 3-4 minutes until brown.
Add bell peppers, onions, and remaining chilli powder, salt, and pepper. Cook it for another five minutes. Stir it in kale, remove it from heat, and divide it among four glass meal prep bowls.
7. Baked Eggs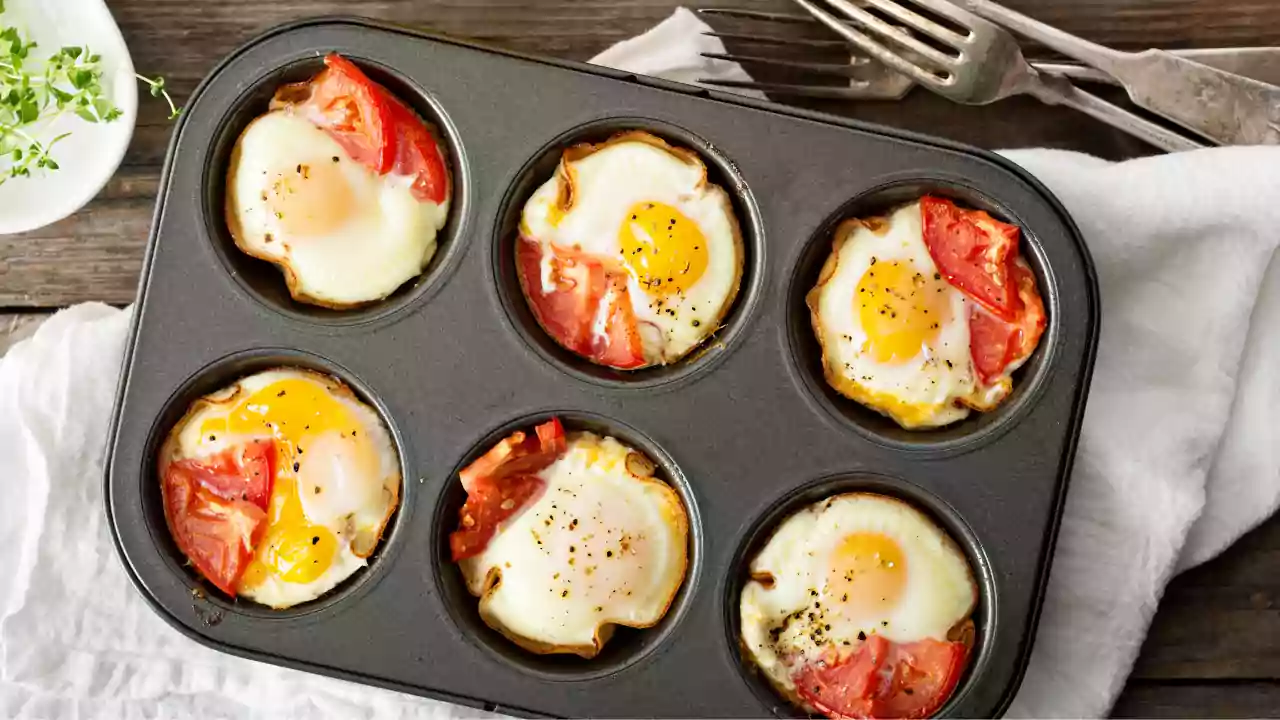 Serves: 4 people
Preparation Time: 15 minutes
Ingredients required:
2 tbsp butter
12 eggs
Filling ideas
Deli ham
Asparagus, sliced
Arugula
Sundried Tomatoes
Thinly sliced mushrooms
Spinach, chopped
Pork or turkey bacon, cooked and chopped
Recipe:
Preheat the oven to 350 F. Grease the muffin tins with butter and then crack an egg into each muffin tin.
Add the desired fillings, and then bake it for 12-14 minutes for semi-runny yolks. Bake hard yolks for 18 minutes.
You can try the following flavours: ham and Asparagus, mushroom and spinach, sundried tomato and arugula, bacon and broccoli cheddar.
Should you Avoid any Foods While Meal Prepping for Weight Loss?
Healthy meal prep ideas is an essential part of any weight loss on a budget plan. But what foods should you avoid when doing healthy meal prep for weight loss?
There are some foods that we should avoid during healthy meal prep. They include:
High-calorie and processed foods like chips and sweets
High-fat and greasy meats like bacon and fried chicken
Excessive amounts of sugar in your diet
Summary
So, here we come to the end of the article. Meal prep is a great way to eat healthy and delicious food without disturbing your daily routine. Tons of meal prep ideas can make your cooking work much more accessible.
Most of the dishes take around 45 mins to 60 mins time for preparation. Hence, you don't have to invest much time in a day while you prepare delicious recipes.
Whether it helps lose weight or not is a debatable matter. Some people do have weight loss while others' weight remains the same. Eat low-calorie food, and you will maintain a pathway to good health. I wish you good luck with the planning of healthy meal prep ideas for weight loss on a budget.
Happy reading! Happy healthy eating!