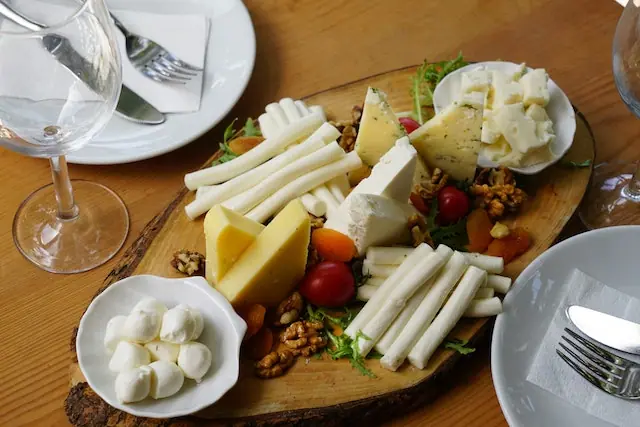 9 Super Easy Meal Ideas for Cheese Lovers
Who doesn't cherish the creamy, gooey, and indulgent flavors of cheese? Some 96% of Americans today are cheese lovers or eaters, and they would rather give up caffeinated beverages than remove cheddar or mozzarella from their palate.
If you're looking for creative yet effortless ways to incorporate cheese in several mouthwatering recipes, you've come to the right place. It doesn't matter whether you're a kitchen-hardened chef or just a humble domestic cook. It's time to unleash your inner cheese aficionado.
So, let's celebrate the piquant, buttery, and delectable world of cheese. Below, we'll share a neatly-curated selection of easy-to-prepare meal ideas to satisfy every cheese lovers cravings.
1.  Baked Brie with Sundried Tomatoes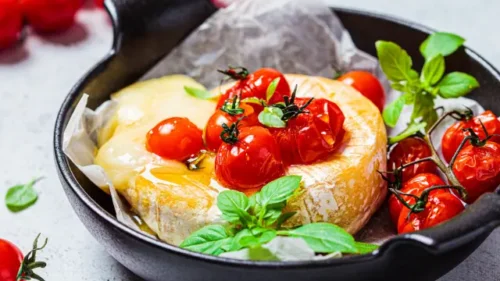 Combining brie with garlic, parsley, and sun-dried tomatoes can create a fountain of cheesy delight in your kitchen. In about 30 minutes, you can prepare this perfect party appetizer to dazzle your guests with its buttery flavor.
Some cooks like to further improve cheese's creamy goodness and tomatoes' tangy flavors by adding olive oil, minced basil, and baguette slices. Brie makes an amazing appetizer thanks to all the fats, proteins, calcium, and vitamin B12 it contains, a favorite among cheese lovers.
2.  Classic Tuna Casserole with Cheese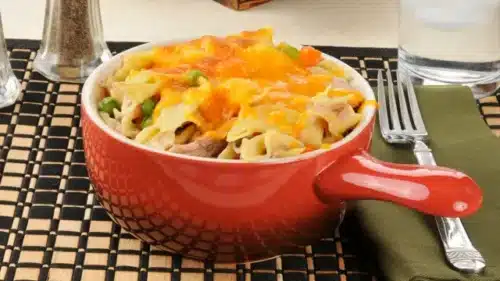 Make your weeknight dinner and potluck gatherings a memorable experience by making this delicious cheesy wonder. Preparing a tasty casserole with tuna, noodles, and shredded cheddar cheese takes only half an hour. Use some frozen peas, sour cream, and mayonnaise for added flavor.
This delicious cheesy tuna casserole families love is super easy to make. Serve it with garlic bread, and your whole family will be coming back for seconds. Also, you may customize the list of ingredients by adding diced onions, mushrooms, or bell pepper, enhancing your homemade casserole's cheesy essence.
3.  Cheese Stuffed Chicken Breast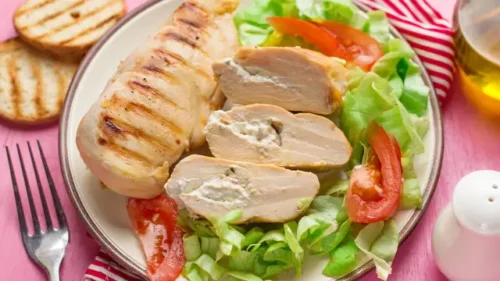 It's not difficult to make cheddar-stuffed chicken breast at home. Take bone chicken breasts, peel their skin off, and stuff them with spinach, sundried tomatoes, and shredded cheese. Try pan-searing on the stovetop until a crispy-brown crust forms on the outside and the cheese begins to thaw. If you're fearful of the chicken melting out of chicken breasts, use toothpicks to secure the cuts while cooking.
After thoroughly heating the meat, you can serve this cheesy delight with these sides:
Coleslaw
Steamed broccoli
Roasted cauliflower
Simple skillet green beans
Microwaved mashed potatoes
4.  Cheese and Charcuterie Board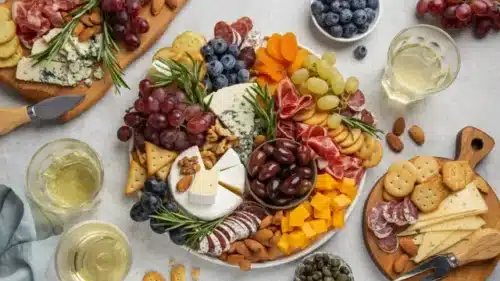 When it comes to appetizers, many chefs prefer charcuterie boards comprising of meat, bread, cheese, and crackers. Even though this French invention was meant for "cooked meat," you can easily complement the appeal of charcuterie boards by adding an assortment of delectable cheeses.
It only takes 15 to 20 minutes to prepare a charcuterie board, as all it takes is slicing a few ingredients and placing them neatly on top of a wooden panel. You may further enhance the buttery flavor of your specially-picked cheese slices by featuring fruits and olives on the board. Try experimenting with brie, camembert, blue cheese, goat cheese, and aged cheddar for added flavors and textures.
5.  Classic Grilled Cheese Sandwich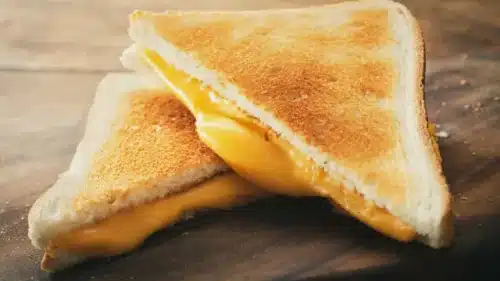 Nothing beats this classic. A traditional grilled cheese sandwich remains America's favorite, more popular than chicken or turkey sandwiches. Different variations of this comfort food are available, and all of them can be made easily and quickly, even in your car.
Just layer some cheese between slices of bread and keep grilling until the cheese melts into a gooey shape. Add some extra flavor with bacon, tomato slices, and caramelized onion if you're not too busy. Now, enjoy your creation.
6.  BBQ Bacon Cheeseburger with Nachos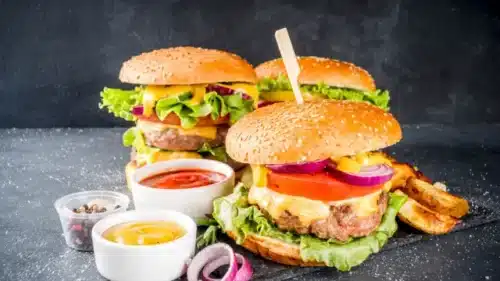 After talking about grilled cheese sandwiches, it makes sense to discuss BBQ cheeseburgers combined with nachos. It'll take you 20 to 30 minutes to prepare this creamy sensation. Take four slices of bacon, some ground beef, half a cup of chopped onion, the same amount of BBQ sauce, and a suitable quantity of Montreal steak seasoning.
Most importantly, procure some quality cheddar cheese. These ingredients will transform into a mouthwatering concoction after half an hour. Stir this mixture with honey, coleslaw, lemon juice, and mayonnaise.
7.  Gourmet Grilled Cheese with Fig Jam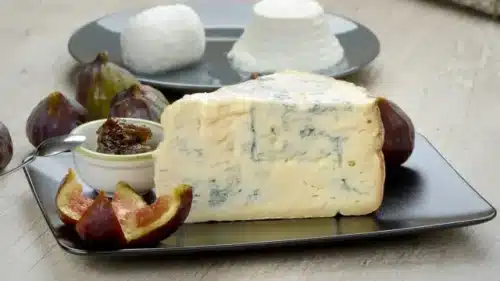 You can elevate your grilled cheese game by pairing it with fig jam. The spicy flavor of fig jam goes well with goat's fresh cheese, such as brie, Gruyere, or camembert. Spread a coating of sweet fig jam inside to enhance the taste of gourmet grilled cheese. Grill the cheese until it softens, and toast the bread to perfection. It'll take you only 6 minutes to cook this enjoyable cheese wonder.
You may serve it as an appetizer or make this jam-filled snack when craving cheese.
8.  Mississippi Mud Cheesy Potatoes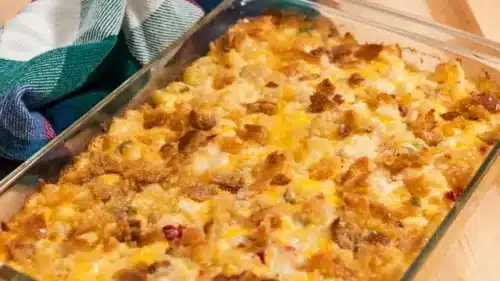 This delicious and indulgent dish will combine the amazing flavors of bacon, cheese, and potatoes. You may serve this delicacy as a side dish, but this comfort food could do well as the main course at your party. Mix some diced, peeled potatoes with cooked, crumbled bacon and shredded cheddar cheese. Whirl some minced garlic, chopped onion, and quality mayonnaise for added flavor.
After combining the ingredients mentioned in a big enough baking pan, add the mayonnaise and keep stirring until coated. You should place the pan in an oven, bake for an hour and a half, and serve this cheesy potato delight to your family.
Read More: Healthy Meal Prep Ideas for Weight Loss on a Budget
9.  Quick Crockpot Fondue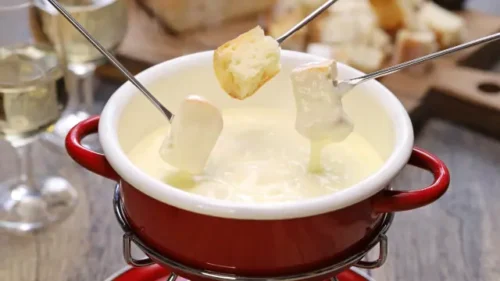 A slow-cooker fondue may take more than an hour to prepare, but its process is much easier to navigate than many other complicated cheese-based dishes. Cheese lovers can successfully cook this meal once they know its simple recipe. Take garlic, cornstarch, white wine, sliced apples, and freshly ground black pepper. Mix it all with a few ounces of Swiss and Gruyere cheese.
The cooking process involves heating this mixture for 30 minutes at a high temperature and then slow-cooking for the next 45 minutes while constantly stirring the crockpot to ensure all the ingredients have been amalgamated perfectly. Then serve this cheesy fondue with apple slices.
Conclusion
Adding that irresistibly cheesy goodness can transform a meal into a mouthwatering, finger-licking delight. This blog discusses cheese-stuffed dishes, comforting soups, and cheesy baked goods to unleash your love for this amazing milky-buttery product. Cheese can be integrated with anything in a million ways, from pizza, nachos, and hamburgers to fondue, potatoes, and tomatoes. Mix some cheese with a normal casserole, and it'll become the yummiest meal you and your family have tasted.