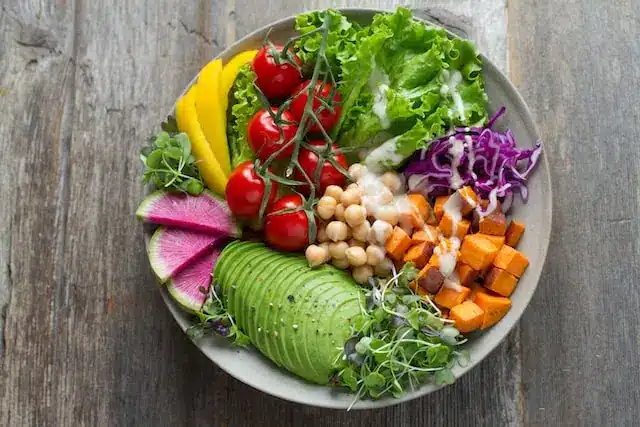 6 Quick and Easy Side Salads
Side salad recipes are more than just a boring afterthought to your meal. They can be a delicious and nutritious way to add freshness, color, and texture to any meal. And they don't have to be complicated or time-consuming to make. With a few simple ingredients and seasonings, you can easily whip up a side salad that will wow your guests.
In addition to being delicious, side salads are also packed with nutrients. They're a great source of vitamins, minerals, and antioxidants, which can help boost your immune system, improve your digestion, and protect your body against diseases. So next time you're planning a healthy meal, don't forget to add a side salad!
In this blog, we will share a few of our favorite side salad recipes for you to try. So, let's start!
1.    Cucumber Tomato Salad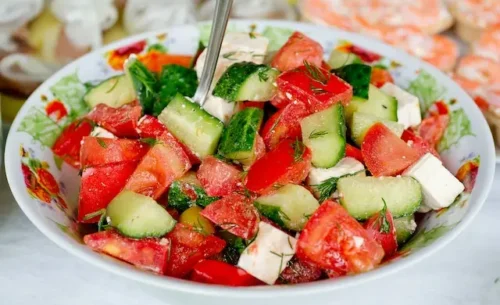 This light and refreshing cucumber tomato salad pairs perfectly with grilled meats, pasta dishes, and more. It comes together in just 10 minutes, making it an ideal quick weeknight side. Thinly sliced cucumbers and tomatoes create a crunchy, juicy base. They're tossed in a bright dressing of olive oil, red wine vinegar, garlic, oregano, salt, and pepper.
For extra flavor, you can add crumbled feta cheese, sliced red onion, or fresh chopped basil. The salad is best served immediately, but it can also be made ahead of time and stored in the refrigerator for up to 24 hours.
The cucumber and tomato salad is a traditional Shirazi salad. The exact ingredients and proportions of a Shirazi salad can vary depending on the region and personal preferences. But the common ingredients include cucumber, tomatoes, red onions, mint, lemon juice, and parsley.
This salad is a great source of vitamins C and K, as well as potassium.
2.    Apple Walnut Salad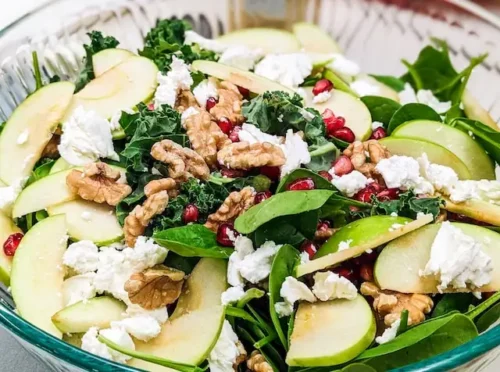 Look no further than this apple-walnut combination for a salad with crunch and subtle sweetness. Sliced apples, walnuts, dried cranberries, and feta cheese are layered over mixed greens. Then, everything gets tossed in a maple vinaigrette with olive oil, maple syrup, mustard, salt, and pepper.
The salad has a nice balance of flavors and textures. It pairs especially well with rich entrees like steak, pork chops, or cheesy casseroles. In terms of nutrients, you'll get antioxidants from the apples, omega-3s from the walnuts, and protein from the feta.
3.    Strawberry Spinach Salad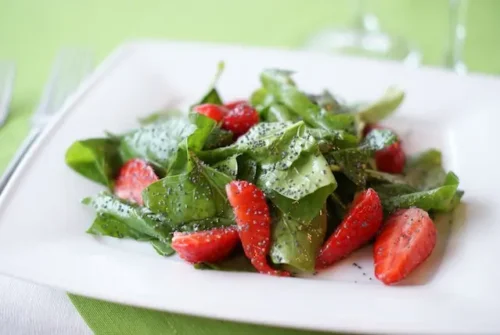 Make the most of fresh strawberries with this colorful spinach salad. Spinach leaves provide vitamin K, folate, iron, and antioxidants. They're topped with juicy sliced strawberries, crumbled goat cheese, and toasted almonds. Bring everything together with a simple dressing made with olive oil, balsamic vinegar, honey, mustard, and basil.
Enjoy this salad alongside grilled chicken, seafood dishes, or even pizza. The sweet, juicy strawberries contrast nicely with savory mains.
4.    Greek Salad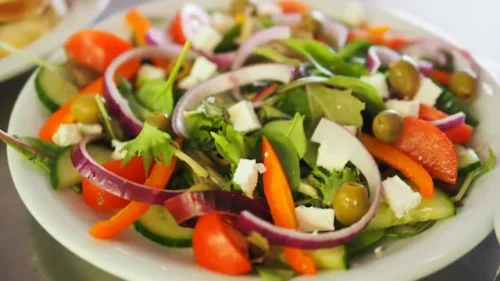 No side salad list would be complete without the Greek salad. This Mediterranean staple combines crisp cucumbers, juicy tomatoes, olives, and feta cheese with fresh herbs and a tangy dressing.
It perfectly complements gyros, souvlaki, falafel, and other Greek main dishes. The vegetables supply vitamins C, K, and potassium, while the feta adds protein.
Make your dressing with olive oil, red wine vinegar, garlic, oregano, salt, and pepper. Let the salad chill for 30 minutes so the flavors develop before serving.
5.    Caprese Salad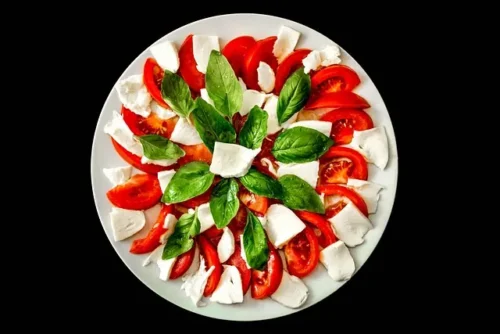 Caprese salad is a simple yet impressive Italian side made with fresh mozzarella, tomatoes, and basil. Layer sliced fresh mozzarella and tomatoes on a platter. Top with torn basil leaves, a drizzle of olive oil, and a sprinkle of salt and pepper. Let the flavors mingle for 15 minutes before serving.
The beauty of Caprese salad is that the high-quality ingredients speak for themselves. Enjoy it alongside Italian dishes like chicken parmesan, lasagna, or eggplant parmigiana. The fresh mozzarella provides protein, while the tomatoes offer vitamin C.
6.    Potato Salad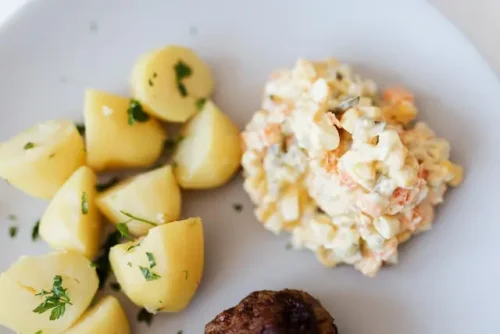 Creamy, tangy potato salad is a classic summer cookout side. While homemade is ideal, you can save time using a store-bought mayonnaise-based dressing. Simply toss cubed potatoes with mayonnaise, mustard, chopped celery, diced onion, salt, and pepper. Let the salad chill for at least an hour for the best flavor.
You can pair your potato salad with barbecued meats, fried chicken, or sandwiches. The potatoes offer potassium, vitamin C, and fiber. For extra nutrition, try substituting Greek yogurt for some of the mayonnaise.
Read More: 7 Day Vegetarian Keto Budget-Friendly Meal Plan For You!
Conclusion
Whipping up quick, tasty side salad recipes is easier than you think. You can create salads that perfectly complement your main courses with fresh vegetables, fruits, cheeses, nuts, and easy dressings.
Include a side salad at each meal for an extra serving of produce, vitamins, and antioxidants. Vary the ingredients based on the season to enjoy the freshest flavors. With endless combinations to try, you'll never get bored.
So, the next time you want to spruce up a dinner, look to these easy salad recipes for inspiration.