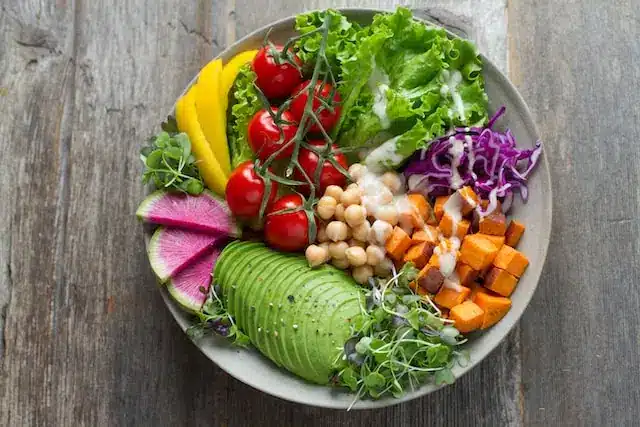 7 Day Vegetarian Keto Budget-Friendly Meal Plan For You!
The idea that nutritious eating is expensive is a widespread one. That isn't always true, especially when you know how to budget your meals wisely. In this article, we'll show you that healthy living doesn't have to be costly and that attaining your life goals shouldn't have to cost you all of your hard-earned money. Whether your goal is to eat the right food for the improvement of your mental health or to boost your physical health, a 7 day vegetarian keto meal plan is an excellent lifestyle choice. First, we'll discuss the basic rules of budgeting your diet.
How to Spend Less on a Vegetarian Keto Diet
When we say that healthy living shouldn't be expensive, it's true – it doesn't have to be. Fortunately, there are a few workarounds that can help you achieve a healthy lifestyle when it comes to your diet and at the same time, budget your hourly pay.  From making use of what you have to keeping your meals simpler, here's the ultimate guide on how to cut costs on a plant-based keto-friendly diet.
Make Use of What You Have
If you want to make the most out of your budget, look into your pantry. Take note of the ingredients that you have. That way, you have an idea of what dishes you can create and what else you might need to add to your grocery list.
Making the most out of what you have can also mean using leftovers for meal prep. For instance, you might be better off using that leftover chia seeds for other dishes to prevent the monotony of flavors. Not only do you get to try out new dishes, but you also get to cut back on some of your spendings too.
Cook in Bulk
Cooking in bulk sometimes means ordering in bulk. Buying in bulk tends to be cheaper and as a result, helps you meet your budget needs. Store your fresh produce in the freezer so it lasts longer. Or cook recipes good for two to three servings. Not only do you save your hard-earned money, but also you leave some time for you to rest and lounge about on those busy days.
Look for the Best Deals
Becoming a penny-pincher means always having to look for the best deals. There are a myriad of ways you can go about that. For example, a supermarket might have overstocked its inventory of peanut butter that is set to expire in a few months. They slash their prices to reduce storage costs and you get to buy the products at a lower price – it's a win-win situation for both.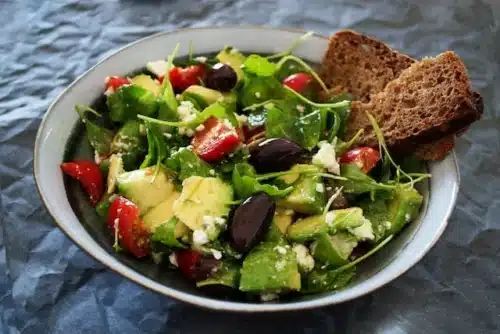 There are a few other ways you can tighten your budget when creating your meal plan. If your supermarket requires a membership, be on the lookout for members-only discounts. And while you're on the Internet, take some time to scour the best coupons that you can use at your nearest grocery chain. We're talking about buy-one-get-one-free deals or other significant markdowns for specific items. Check the store's website or a food manufacturer's website and you'll be surprised to find many many coupons you can use for your next grocery shopping day. And if you haven't considered it yet, try reading the Sunday newspaper to find more of these hidden gems.
Plan Your Meals Around Seasonal Sales
Now here's another trick: plan your meals around seasonal sales. For a vegetarian diet, it helps to know which produce to buy for any given season. You might, for instance, get a better deal buying corn or raspberries in summer instead of buying them in winter. Or, buying asparagus and pea greens in the spring instead of fall. Buying your fruits and veggies in season not only gives you huge discounts but also ensures that they're tastier and more nutritious.
Keep Your Meals Simple
Of course, we couldn't forget one of the most important rules in budgeting: keep it simple. You don't have to put on your chef's hat and go overboard with your recipes. Looking for unusual and rare ingredients costs you both your time and money.
Now, that doesn't mean you miss out on some good flavors. Fortunately, you don't have to look far to create the best dishes that work for you and your taste buds. All you have to do is go to your nearest grocery store and work with what you have.
Read More: 7-Day Meal Plan for Muscle Gain for Beginners
Your Guide to a Budget-Friendly Vegetarian Keto 7 Day Meal Plan
Now that you know how to create a budget meal plan, let's walk through a 7 day vegetarian keto meal plan that works just for you. Here's how you can achieve that: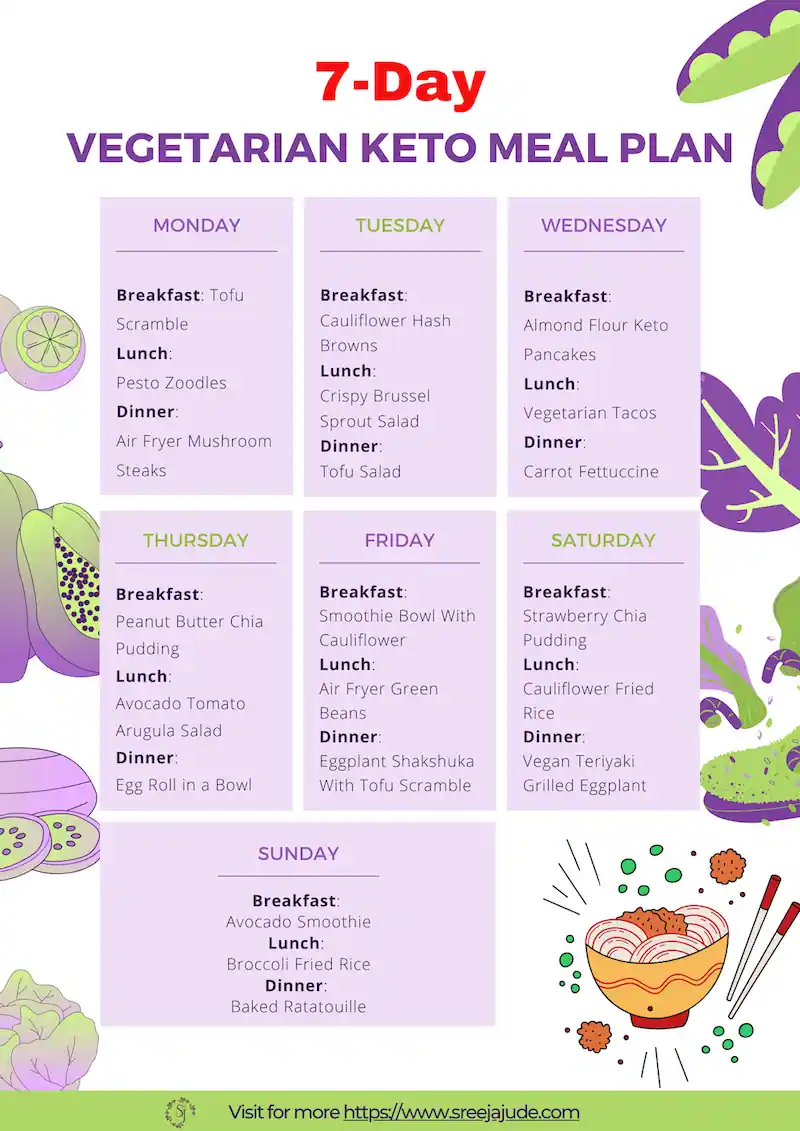 Day 1
For the first day, give these meals a go:
Breakfast: Tofu Scramble
To start off your day, you'll need a block of tofu. Press this for a few minutes and drain. Saute your onions in vegetable broth and add some mushrooms and red peppers and cook until tender. Add your tofu and season it to taste. Adding a little turmeric gives the tofu a yellow color which makes it look like you're eating scrambled eggs. Then, just add a few cups of spinach and allow it to wilt. Voila! You now have a tofu scramble for breakfast.
Lunch: Pesto Zoodles
For lunch, give some zoodles – er, zucchini noodles – a try. This dish calls for zucchini, pesto, avocados, olives, tomatoes, basil, and oil. To create zucchini noodles, you may use a spiralizer. However, using a julienne peeler will help you achieve the same results by peeling until the soft center.
Dinner: Air Fryer Mushroom Steaks
If you're looking for a simple recipe involving mushrooms, give this one a go. Simply clean the mushroom steaks and place them in the air fryer basket. Coat it with a mixture of olive oil, soy sauce, and garlic purée, seasoned to taste. Once cooked, serve with some veggies of your choice.
Day 2
For the second day of your meal plan, give these dishes a try:
Breakfast: Cauliflower Hash Browns
Prepare your cauliflower and onions and reduce them to crumbles through a food processor. Add flour and some cornstarch and season it until the flour has incorporated into the cauliflower mixture. Mold the mixture into little balls and flatten them to form a patty and brush with olive oil. Bake for 40 minutes and turn them after 25 minutes.
Lunch: Crispy Brussel Sprout Salad With Lemon Dressing
Brussels sprouts are an excellent base for your next salad – it's crispy and delicious. To prepare this salad, you'll need brussels sprouts, pumpkin seeds, and sunflower seeds. Stir the seeds and season them in a pan. You may add a lemon dressing by mixing olive oil, lemon juice, and zest.
Dinner: Tofu Salad
After long, grueling days, cooking can sometimes feel like a chore. Preparing this tofu salad doesn't feel like one, because it's quite simple to make. Cook some tofu in a skillet and once cooked, mix it with some salad greens. Mix it with an Asian-inspired dressing consisting of sesame oil, sesame seeds, ginger, and soy sauce.
Day 3
Now here's what you should try out for day 3:
Breakfast: Almond Flour Keto Pancakes
One of the nicest morning meals is a plate of pancakes. For vegans, instead of using eggs, try using flax eggs – just grind one tablespoon of flaxseeds to three tablespoons of water and you have an egg substitute. Other than that, you'll need some almond flour, baking powder, oil, and water. It's quite simple – it's just like making regular pancakes without the addition of eggs and milk. It can also be finished in 5 minutes!
Lunch: Vegetarian Tacos
On your next Taco Tuesday, try out some vegan best tacos at home. You can enjoy this famous Mexican dish with five simple ingredients. All you need are some textured vegetable protein (TVP), taco seasoning, black beans, and corn tortillas. You'll need to boil the seasoning and beans in water. Then, add some of the textured vegetable protein to the pot. In a separate grill or pan, start heating the corn tortillas. Once the TVP has absorbed the water, you can remove it from the heat and start adding it to your tortillas.
Dinner: Carrot Fettuccine
If you're in love with pasta but want to cut down on the carbs, try carrot fettuccine. Yes, you heard that correctly. You'll need one major ingredient: carrots (obviously). Peel the carrots and leave them skinless. Continue peeling until they resemble fettuccine noodles. Boil it like you'd boil your pasta by adding some salt. Once it's tender, drain it and add a sauce of your choice – cauliflower sauce works well with it.
Day 4
Here are some interesting dishes to try for the middle of the week:
Breakfast: Peanut Butter Chia Pudding
In a blender, add a cup of peanut butter, unsweetened almond milk, ground chia seeds, salt, and vanilla extract. Blend until creamy and smooth. Place in the refrigerator and let it cool for 3 hours then it's good to go.
Lunch: Avocado Tomato Arugula Salad
Here's another salad worth trying thanks to the spicy kick of the arugula. You'll need arugula, basil, yellow and red grape tomatoes, avocados, and red onions. Mix these together with a balsamic dressing until it's evenly distributed.
Dinner: Egg Roll in a Bowl
This deconstructed egg roll is the perfect dish to cap off your day. In a skillet, cook the tofu and mushrooms in oil. Add some cabbage and carrots and season with rice vinegar, soy sauce, and ginger. This simple recipe allows you to enjoy eating egg rolls without the oil – a healthier choice.
Day 5
For the fifth day, check out these budget-friendly vegetarianketo meals:
Breakfast: Smoothie Bowl With Cauliflower
A vegetarian-keto diet calls for more cauliflower. This smoothie contains cauliflower, zucchini, spinach, blueberries, milk alternative, and peanut butter. Prepare your cauliflower and blend these until you achieve a creamy texture.
Lunch: Air Fryer Green Beans
This easy recipe allows you to quickly cook some green beans without the need for oil – just what anyone with a busy lifestyle needs. It's extremely straightforward – place them in the basket and air fry them depending on how crispy you want them to be!
Dinner: Eggplant Shakshuka With Tofu Scramble
We're taking you around the world with this meal plan. And for this dish, we're stopping at the Middle East with this eggplant shakshuka recipe. Saute your onions, garlic, and bell pepper, and sprinkle some cumin, paprika, and cayenne pepper. Toss in the eggplants and pour some tomato paste. If you have some leftover zoodles, these two dishes are a match made in heaven.
Day 6
Discover these new dishes that work for a perfect day 6 of your vegetarian keto meal plan:
Breakfast: Strawberry Chia Pudding
Here's another chia dish that could jumpstart your day. Mix coconut milk, peanut butter, a sweetener of choice, cocoa powder, and vanilla extract. Blend this with some water until you achieve a creamy texture. Serve in jars and store in the fridge.
Lunch: Cauliflower Fried Rice
You might be thinking – cauliflower again? Yes. But trust us, here's another twist to this mainstay in keto diets. Your main source of protein in this dish is tofu, but this fried rice is made more flavorful with a peanut glaze containing peanut butter, sesame oil, soy sauce, a sweetener of choice, and chili garlic. And for the cauliflower rice, bring out some cauliflower, sesame oil, garlic, and soy sauce. The combination of these ingredients makes a tasty keto-friendly meal for lunch.
Dinner: Vegan Teriyaki Grilled Eggplant
Let's add a little of a bit of that teriyaki goodness to some grilled eggplant for dinner. You'll need to prepare your teriyaki sauce with soy sauce, sesame oil, garlic, and ginger. Slice the eggplants and coat them with teriyaki sauce. Then, it's as simple as searing each side until they're coated with enough sauce. That's it!
Day 7
For your last day, give these dishes a try:
Breakfast: Avocado Smoothie
There's no better way to start your day than with this five-ingredient avocado smoothie. Prepare your avocado, milk of choice, vanilla extract, sweetener of choice, and salt. Blend until smooth and add some ice cubes to make it more refreshing.
Lunch: Broccoli Fried Rice
Let's switch things up – instead of yesterday's cauliflower, let's try some broccoli today. In a skillet, cook the riced broccoli with garlic and season according to taste. You may add other ingredients like ginger and lime juice to elevate this dish. Then, garnish with cilantro and scallions, and you're done!
Dinner: Baked Ratatouille
We've all heard of the movie Ratatouille where a rat was responsible for creating one of the finest dishes in Paris. But this time, it's not a rat who'll be preparing this meal – it's you. And fortunately, your prep time for this shouldn't exceed 10 minutes! In a bowl, mix tomato paste with water and add some sliced eggplant, tomato, zucchini, and onions – alternating them each to create a culinary work of art. Pop it in the oven for around 40 minutes and it's ready.
Read More: 7-Day Vegetarian Keto Diet Plan for Busy Moms
In Conclusion
You see, eating healthy doesn't mean that you have to cut corners when it comes to food. Creating healthy and delectable meals isn't about finding the most expensive ingredients – it's all about making the most out of what you have. Say, even if you have a cauliflower dish three times a week, it should still be exciting when you've cooked it in different ways. Whether it's your first foray into a plant-based keto-friendly diet or whether you want some inspiration for your healthy lifestyle, this 7 day vegetarian keto meal plan will surely help you achieve the healthy lifestyle you seek.